The dress is sorted out, the shoes are done, what else? You cant forget your bridal makeup, its just as important as your dress and shoes. Wedding makeup plays an important part to help achieve the look you want on your special day. To help you out, we are giving you a few tips to start with.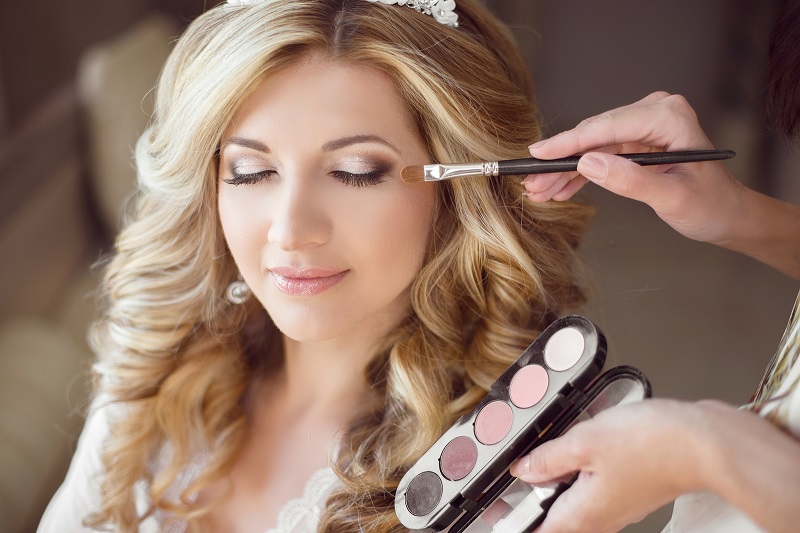 You need to book a wedding makeup trial four weeks before the event. If you want to use a fake tan, run a test to see what color you actually achieve. This will give you plenty of room to tweak around if something goes out of way.
You need to wear a white T-Shirt at your Makeup Test. This allows you to see how your bridal makeup holds up against your skin and dress. Make sure the T-shirt matches the color of your gown, otherwise this test will be pointless.
You can try out different makeup styles, but remember your makeup should compensate for whiteness of your gown. There is a hell lot of different between what you wear on regular days and on your wedding day. This way your wedding makeup should be different as well. You can start with your skin, give it a smooth and even look. Later on add color to your cheek and lips for a nice glow.
Pay attention to important elements of your look, these are your skin, brows, lashes, cheeks and lips. If you get the basics right, the rest will fall in line.
You have to research on different ways for how to apply bridal makeup. These methods can differ from each other and have different results. So try them out, and see which works for you. For instance, if you want a line with shadow, you can make it last longer by using a damp eyeliner brush.