Ready to break the news, start with your wedding invitations. You have to craft them perfectly if you want people to have a higher image on your institution. These handy tips will help you to start right, so be careful.
Pick Your Style   
Your wedding invitations speak a lot about your wedding theme. Apart from the location and time, it hints about the formality of your wedding. It will be in your best interest if you have an idea about the event, are you going to make it formal, classy or modern and funky? So, before you embark on picking the stationary, you should choose a style which will flaunt your theme.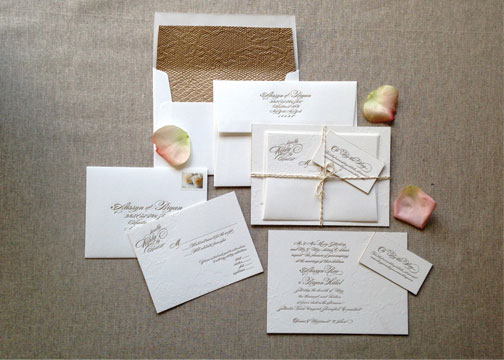 Pick the Right Color
Just like the aforementioned point, color of your invitation plays a vital role. You need to incorporate colors and motif in your invitations. Later on, carry on the whole wedding paper and add a cohesive look. You better pick classic options including white, creamy, off-white and other such colors for the cards. If you want, you can choose metallic fonts, paper stock or liners. While at it, don't forget about the readability, the card should present your message clearly, the reader shouldn't have any problem reading the whole thing.
Shape and Size
The ideal size is 4.25×6.25 inch rectangular. But If you want to get more playful, you can experiment with square and circular options. Just veer away from the tradition options. Also, try not to make the whole thing bulky. You don't want to invest too much on wedding announcements and invitation.
Carefully Word it
Be careful when wording your wedding news. List the host first, and spell everything out. Add a request line after the name of host, and don't forget to add the timing and location. These are the most obvious details.