Nowadays, weddings aren't just confined to churches or registry offices, and depending on your style preferences you could choose to get married more or less anywhere, whether it be a swanky hotel, restaurant, rustic old barn or even somewhere completely crazy.
However, one of the old favourites which never goes out of fashion is a country house wedding. A classy environment which feels like your own luxury home for the weekend, country houses are a great choice, and we're going to go through some top tips when booking one.
Why Choose a Country House?
Here are just some of the reasons why you might want to choose a country house as your wedding venue:
The privacy to have the place to yourself for the duration of the event.
Amazing photo opportunities, with the countryside as the backdrop.
A quiet space of your own to prepare in before the ceremony kicks off.
A chance to get away from the pace of the city.
The feeling that you have your own home away from home during your stay.
Location
The very first thing you'll need to decide, before the specific house you want to go for, is the sort of location that you want.
According to Lake District Country Hotels: "Usually people choose to go for a venue which is within about an hour's drive of their home, to make it as easy as possible for all of the guests to get there."
Alternatively, if you live away from where you grew up, it might be nice to head back somewhere closer to home.
If you've got guests travelling from across the country, or even the world, then you'll need to take local transport links into account, and you'll also have to think about how you're getting to get all the decorations and the entertainment there too.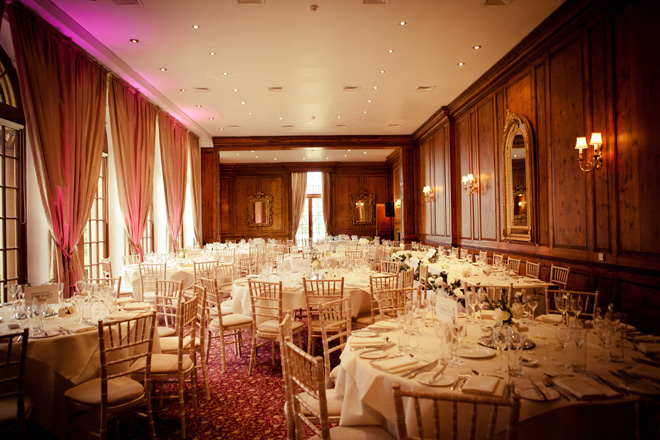 Exclusivity
An important thing to check is whether or not you have exclusive use of the venue during your stay.
Ideally, you'll have the place totally to yourself, and you can really make yourself at home. Another advantage of this is that you know that the staff at the venue will be able to give their 100% undivided attention.
It may cost a little more to have exclusive use of a property for your ceremony, but in our view, it's definitely worth it!
Accommodation
While a fancy hotel will have plenty of room for all of your guests, this might not be the case at a country house, and there may only be a limited number of bedrooms.
This means that you'll have to be selective and perhaps only invite your closest family and friends to stay over (including the bridal party, of course).
Décor
Country houses are undeniably beautiful locations to get married in, as grand buildings surrounded by beautiful countryside, but you can still add a lot to them with your decorations.
Country houses particularly benefit for classic, old-fashioned themes such as a vintage or rustic theme, or if it's forecast to be nice weather, how about an outdoor garden party?
For some more tips on how best to style your country house wedding, check out this post from Wedding Venues.