Your wedding should reflect your personal style and interests, and that's especially true when it comes to what you wear on your wedding day. This goes for jewelry, shoes, a veil and, of course, your wedding dress. It can also apply to elements within your wedding party and overall wedding decor and vision. One popular wedding style incorporates an elegant theme of minimalism throughout most any aspect of your wedding day.
Now, this is not to be confused with boring or "too-simple" styles. Minimalist weddings enhance the beauty of the smaller, subdued or more refined. A minimalist wedding might still have grand flower arrangements and beautiful bridesmaid dresses, but with less business or loudness associated with some other wedding themes and color schemes. If this sounds like you, read on to learn about how to incorporate minimalist style into your wedding attire.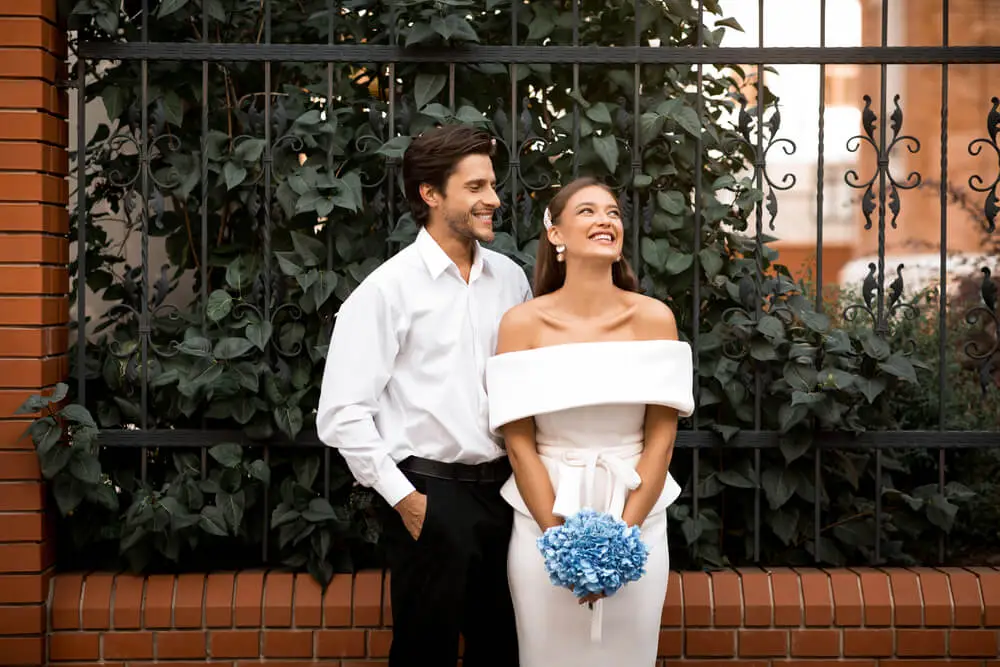 The Minimalist Dress: You might be at the start of the wedding planning process. You may have just received a minimalist engagement ring. You might be fantasizing about your future minimalist-chic wedding. In any of these cases (and others), a dress that features minimalist elements might be a great place to start.
There are countless options when it comes to minimalist wedding dresses. Because the term "minimal" encompasses a broad range of styles and fits, you need not worry about having enough options. Minimalist wedding dresses commonly feature a lot of smooth and uninterrupted fabric, which makes for a flawless fit. Minimalist dresses tend to feature mesh, lace or buttons in a "peekaboo" sense instead of allowing these to overpower the simple beauty of the dress itself. Minimalist wedding dresses should reflect a subdued and clean look while still creating a wedding "wow" factor.
A Simple Veil: Adding simple yet elegant accessories to your wedding look can enhance your bridal outfit while still maintaining an overall minimalist theme. Wedding veils are a great way to add something extra without distracting too much from the dress and bride herself. Again, you have an array of choices when it comes to minimal but beautiful veils. From a fingertip length to full-on cathedral veils or even a short birdcage style, any kind of veil can enhance your minimalist wedding gown.
When choosing a veil, go for quality material and less "fuss," meaning keep things light and additions like pearls, rhinestones, lace additions and other add-ons to a minimum. You'll be amazed at the simple and luxurious beauty of a simple, clean veil paired with a minimalist wedding dress.
"Less Is More" Accessories: When it comes to accessorizing, the "less is more" rule is a great general guideline. In terms of a minimalist look, this is of the utmost priority. Just about any accessory can work for a minimalist bridal look, though it's important to consider your look as a whole when choosing your accessories.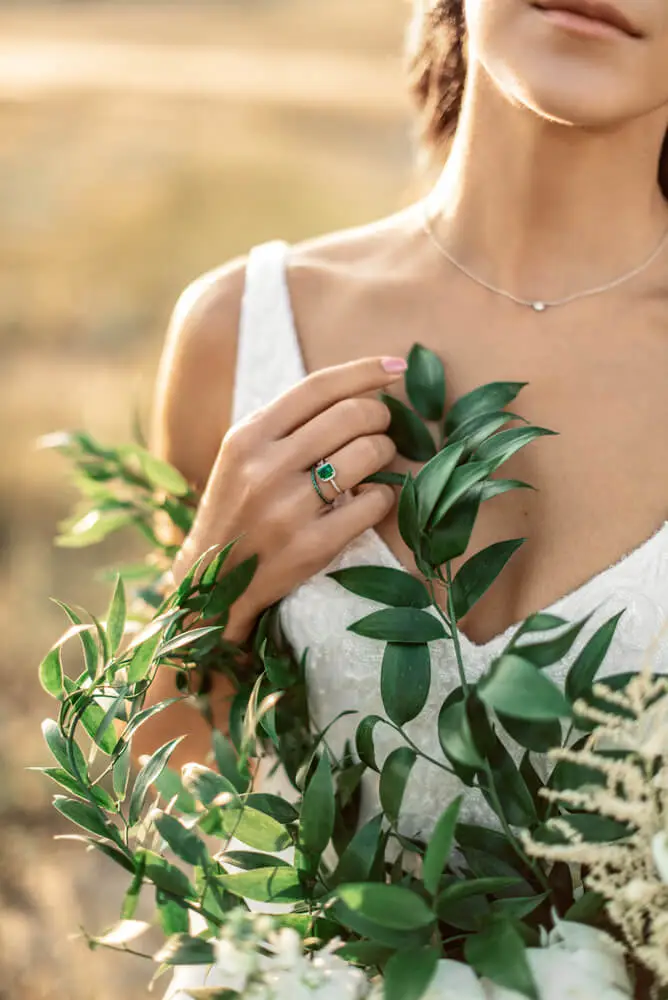 Dainty jewelry is always a good idea when it comes to this type of look. Think less "big and flashy" and more "elegant and refined."  When in doubt, look for jewelry with small chains, a thin bracelet that blends well with your dress or a bridal necklace that emulates the neckline of your dress. Use your engagement ring as a starting point and narrow down your options from there.
Hair and Makeup Dos and Don'ts: Your wedding day makeup should reflect the overall aesthetic of your big day. It should mesh well with your chosen style, theme and dress. While more extravagant wedding dresses might call for an over-the-top makeup look, minimalist weddings should feature toned-down yet pretty makeup looks. Create a makeup mood board for your makeup artist or your own inspiration that features lighter looks, soft highlights, neutral eye looks and pastel cheeks.
Wedding hair follows a similar route for minimalist looks. Consider doing away with add-ons like flowers and rhinestones within your hair look and gravitate towards simple, clean looks. For updos, a french twist or natural low bun are always a win. If you'd rather keep your hair down, go for elegant waves or even a half-up situation to show off your wedding earrings.
Wedding Party Incorporation: A minimalist theme is better achieved by planning the bridesmaid and groomsmen looks to complement your bridal style. Cohesion is so important for a minimalist wedding!
Though the process of deciding on a bridesmaid dress can make your head spin, you can narrow down your search by using filters like "simple," "elegant" and "minimalist" when searching for the perfect dress for your bridesmaids. The great thing about bridesmaid dresses without a lot of fuss or extra add-ons is that it's easy to find something that will look great on everyone. Still, you might want to change it up a bit while still sticking to your minimalist center. You might think about choosing a few different dress styles or fits in the same shade or allowing your bridesmaids to choose their own shoes and jewelry within minimalist guidelines. This adds a bit of variation while still sticking to your theme.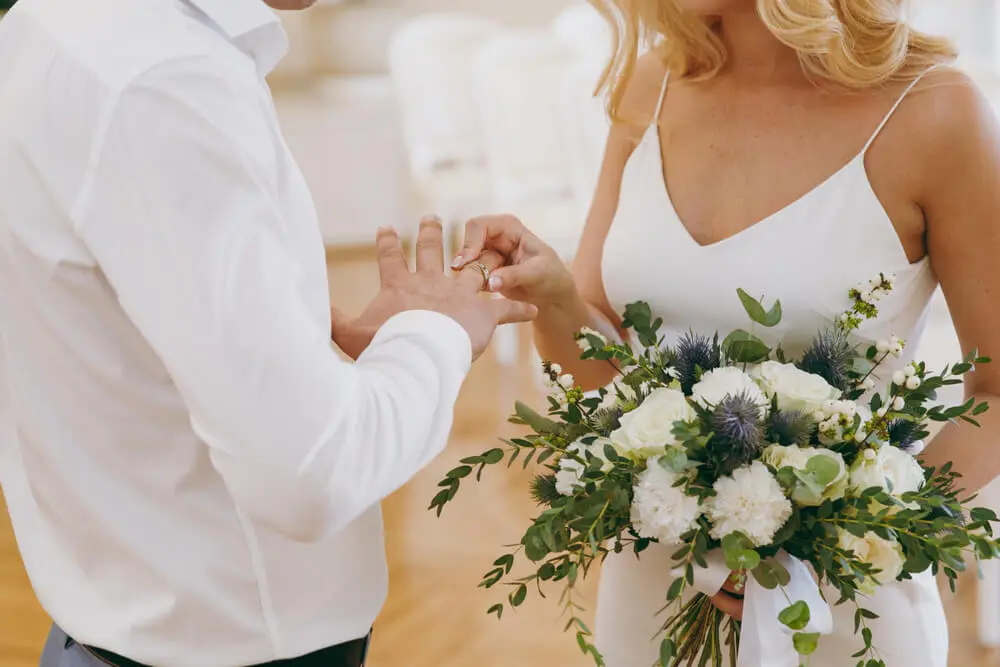 Your Take: Perhaps the best part about planning your wedding is that you can break the rules if you want to! While it is important to make choices based on your chosen theme or overall aesthetic choice, it's also crucial to stay true to your personality and style! Don't say yes to something just because it fits in with everything. On the other hand, it's totally okay to incorporate personal touches here and there throughout your wedding.
Your wedding look is no exception to this tip. You shouldn't think of a minimalist theme as confining or limiting but rather as a helpful and creative outline that is sure to make your wedding dress and overall wedding look flawless and true to your own style!