Your wedding day wouldn't be complete without meticulously selected hues and the lovely scents of exquisitely designed floral arrangements. To ensure the most special day of your life is precisely how you envision it, no detail goes overlooked. To ensure your wedding flowers are arranged to your exact specifications, a dedicated wedding florist will work with you to bring your vision to life.
But how do you create wedding flower arrangements that are both timeless and trendy? To ensure the blooms surrounding you on your special day are visually stunning and deeply meaningful, here are the latest trends (and expert tips) to help you craft breathtaking floral arrangements. Make your wedding day truly unforgettable with the following wedding flower arrangement ideas and guidance.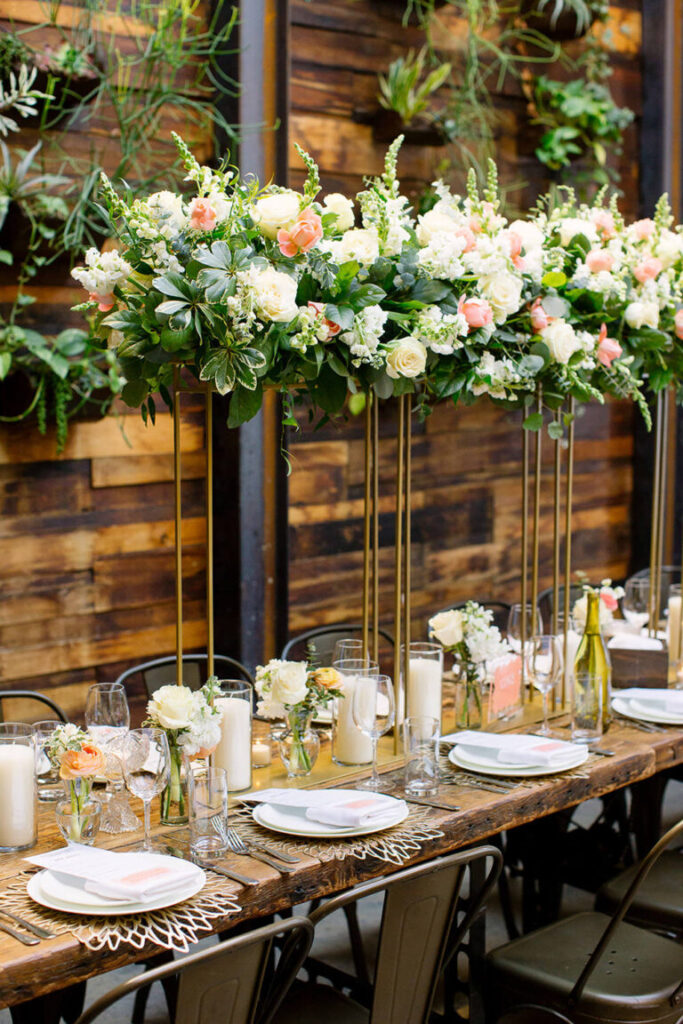 Choosing the Perfect Color Palette
The first step in creating stunning floral arrangements is selecting a color palette that complements your wedding theme and unique tastes. Whether you dream of a romantic pastel affair or a bold and vibrant celebration, your wedding florist can guide you in choosing blooms that align with your vision. Soft blush peonies, classic white roses, or vibrant jewel-toned dahlias are just a few trending options, depending on the mood you want to set and the season of your special day.
Selecting Seasonal Blooms for Freshness
Embrace the beauty of the season by incorporating locally sourced, seasonal blooms into your floral arrangements. Not only does this add a touch of seasonality to your wedding decor, but it also ensures that your flowers are at their peak freshness and beauty. Spring weddings might feature tulips and daffodils, while autumn celebrations can showcase rich hues of dahlias and sunflowers. Consult with your wedding florist to discover the best seasonal flower options for your wedding date.
Innovative Design Ideas
While crafting timeless arrangements is essential, going beyond traditional floral designs and dabbling in more modern ideas can elevate your wedding decor. Consider suspended floral installations for a whimsical touch or cascading arrangements for a romantic aesthetic. An experienced wedding florist can help you conceptualize and execute unique designs that reflect your personality and style.
Mixing Textures and Elements
Add depth and visual interest to your floral arrangements by incorporating a variety of textures and elements. Mix delicate blooms with lush greenery, or intersperse floral arrangements with candles and fairy lights for a magical effect. Texture creates a multi-dimensional look that adds richness and complexity to your wedding decor, making it visually captivating.
Personalized Touches
Infuse your floral arrangements with personal touches that tell your love story. Incorporate blooms with sentimental value, or choose flowers representing special moments in your relationship. Our wedding florists can assist you in selecting flowers that hold personal significance, ensuring that your floral arrangements are beautiful and deeply meaningful.
Designing Floral Arrangements That Are a Testament to Your Love Story
Your wedding day is a celebration of love, and your chosen floral arrangements are crucial in creating the perfect atmosphere. Whether you're drawn to timeless elegance, modern innovation, or a blend of both, the wedding florist you choose will be dedicated to bringing your floral dreams to life.