Attending a wedding at a country club presents a unique opportunity to exude elegance and sophistication. Whether you're a close friend, a family member or a plus-one, choosing the right attire is crucial to ensure you look your absolute best while adhering to the event's formalities.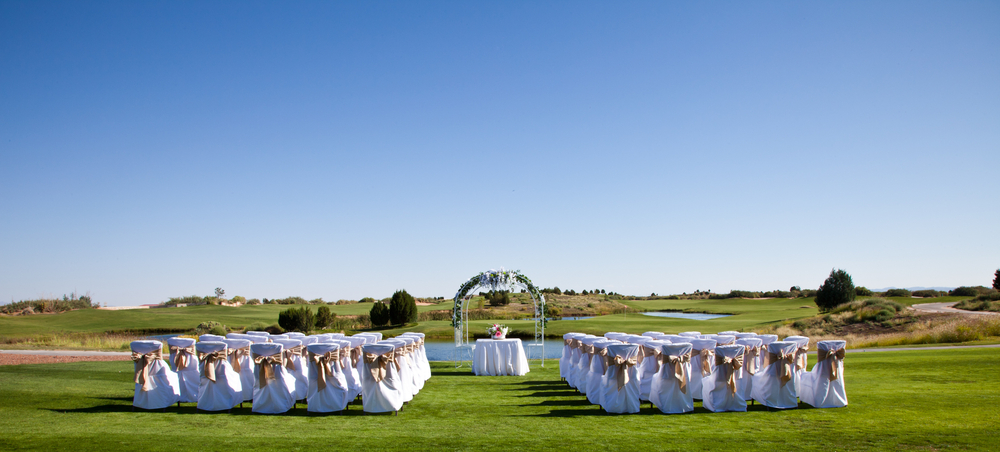 Source: Jeff Schultes/Shutterstock.com
This comprehensive guide provides you with invaluable tips and suggestions on confidently navigating the dress code, with a particular focus on men's wedding suits. From appropriate styles and fabric choices to selecting the perfect colors and accessories, this guide has you covered to help you create a polished and stylish look for the occasion.
Content
Things To Consider
There are several important factors to consider when picking an outfit for a country club wedding. These considerations will help you make informed choices and strike the perfect balance between style and appropriateness. Here are some key points to keep in mind:
Season and Time of Day: The season and time of day can significantly determine your outfit for a country club wedding. Consider the weather and temperature when selecting your attire. Pick lighter fabrics and colors to stay cool and comfortable for spring and summer weddings. Linen or cotton suits in pastel shades can be a great choice. For fall and winter weddings, go for warmer fabrics like wool or velvet and choose darker tones or richer colors. Layering with a stylish jacket or sport coat can add style and warmth to your ensemble.
Wedding Colors: Incorporating the wedding colors into your outfit demonstrates thoughtfulness and contributes to the overall visual appeal of the event. Pay attention to clues about the color scheme on the wedding invitation or consult with the couple if needed. While an exact match is unnecessary, incorporating subtle hints or accents that complement the wedding colors creates a cohesive and well-coordinated look. Consider using accessories like ties, pocket squares or boutonnieres to tastefully incorporate the wedding colors into your ensemble.
Dress Code: Understanding and adhering to the dress code specified on the invitation is crucial. Country club weddings often have a specific dress code, from formal to semi-formal. Please pay attention to the wording on the wedding invitation, as it will guide the expected attire. Whether it's a black tie, cocktail attire or business formal, make sure your outfit aligns with the specified dress code to fit in with the overall ambiance of the event.
Comfort and Mobility: While style is essential, it's equally vital to prioritize your comfort and mobility throughout the wedding festivities. Select clothing that fits well and allows you to move freely. Avoid overly tight or restrictive outfits that can hinder your enjoyment of the event. Consider the length and fit of the sleeves, pants and jacket to ensure optimal comfort. Confidence and ease of movement will enhance your overall presence at the country club wedding.
Outfit Essentials
It would be best to have the essential pieces in your outfit to create a polished and stylish look when attending a country club wedding. Here are the key elements to consider: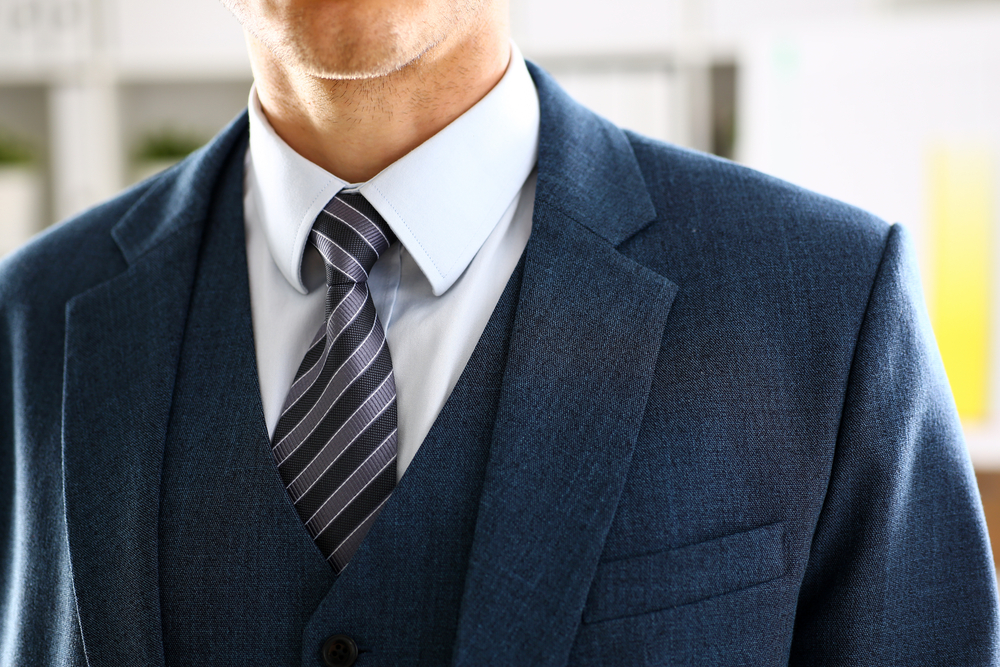 Source: H_Ko/Shutterstock.com
A Stylish Tie
A tie adds a touch of elegance to any outfit. Choose a stylish tie that complements your suit and shirt. Consider incorporating patterns, textures or colors that coordinate with the wedding color scheme. Select a tie from high-quality fabric and ensure it is properly knotted and adjusted for a sharp appearance.
A Tailored Suit
Tailoring ensures a perfect fit that enhances your shape and exudes sophistication. Choose a classic color like navy, charcoal gray or black, depending on the dress code and time of day. Pay attention to details like lapels, buttons and vents, as they contribute to the overall aesthetic and add elegance to your ensemble.
Crisp Dress Shirt
Pair your suit with a crisp and high-quality dress shirt. Pick a white or light-colored shirt made from a breathable fabric like cotton. The key is to ensure that the shirt fits impeccably, with sleeves ending just above your wrists and a collar that comfortably accommodates your neck. A well-fitted shirt enhances overall appearance and creates a polished and refined look.
Elegant Dress Shoes
Choosing the right pair of men's dress shoes is crucial to completing your outfit. Pick classic options such as Oxford or black or brown leather Derby shoes. These timeless styles exude sophistication and elegance. Keep your shoes polished and in good condition, as they can significantly elevate your overall look and provide a finishing touch of refinement to your attire.
Thoughtful Accessories
Accessorizing can elevate your outfit and showcase attention to detail. Consider adding tasteful accessories such as a stylish watch, cufflinks and a refined belt. Settle on accessories that complement your suit and tie while adding a touch of personal style. Pay attention to the details to create a well-put-together ensemble.
Impeccable Grooming
Style your hair with care, ensuring it is well-styled and neatly maintained. Groom your facial hair, keeping it neatly trimmed and shaped. Clean and trim your nails for a polished appearance. Be mindful of personal hygiene and choose a subtle fragrance that adds a touch of sophistication. A pristine grooming routine enhances your confidence and elevates your overall presence at the event.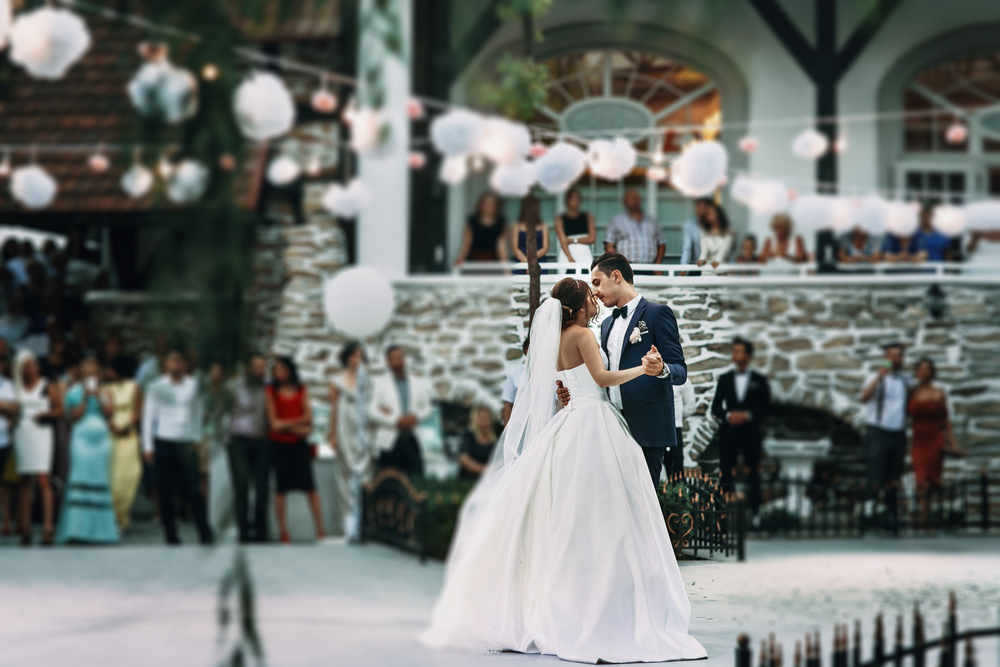 Source: IVASHstudio/Shutterstock.com
Dress To Impress: Nail the Country Club Wedding Look
This guide gives you the tools and insights to confidently dress for a country club wedding. You can create a sophisticated and stylish ensemble that perfectly fits the occasion by considering the dress code, season, time of day, wedding colors and style. Remember to prioritize comfort and pay attention to grooming and accessories for those finishing touches. Whether it's a black-tie affair or a semi-formal celebration, you're now equipped to impress and make a lasting impression at any country club wedding.