One of the most popular places to propose is Barcelona. It might be a bit overwhelming trying to figure out everything for a great Barcelona proposal. We know that feeling because there are so many beautiful places to choose from! But don't let your hopes down, just yet! We are here to help you! Remember that the most important thing is that your proposal reflects you both as a couple, no matter how grand or simple it is. 
Are you romantic or adventurous? We are going to help you pick out the most amazing proposal spot in Barcelona. Here you will find some of our absolute favorite proposal ideas, places and tips on hiring a photographer to capture every precious moment.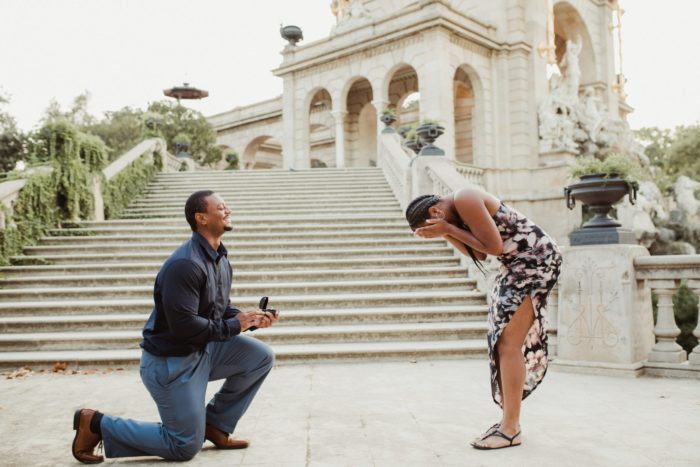 Proposal ideas in Barcelona
Your proposal is going to need some planning beforehand. It is definitely not the best time to wing it. Your future wife has probably dreamt her entire life of this moment. So, you don't want to ruin it for her. It's a big deal! Before we start, take a deep breath and start with our 4 tips:
If you plan a proposal, you should have a solid backstory. For example, if you need to go somewhere to plan certain things. Your future wife can't know the truth or everything will be for nothing. Make sure you have a story ready for moment you need to explain why you are going somewhere.
Choose a special location. 
It's important to realise the type of proposal you want. Do you want a more romantic, intimate, adventurous, unique, or casual proposal? Once you have decided, you can start thinking about the most perfect location for your Barcelona proposal
Hire a proposal photographer
This is an essential tip! Without a secret proposal photographer you would not able to relive the moment of the proposal. It will definitely be imprinted on your memory although a picture or 2, has will be so valuable. Therefore, hire one and tell all your proposal ideas and goals to this person. On the big day, the photographer can be hidden in a certain spot to capture the ultimate moment. And if you were able to keep your proposal a secret, then the photographer will capture all the joy, tears and, most importantly, the moment your partner said "Yes!".
Think about what you will say when you are on one knee. Don't memorize a speech but spend just a little of your time thinking about what you'd like to say to your loved one before the big moment. The key is to stick to an idea and not a speech. And most importantly, don't forget to ask her the main question "Will you marry me?".Best Places to Propose in Barcelona
Congratulations if you have already chosen a destination, like Barcelona. You are already on the right track! Now you need to find the perfect spot in Barcelona. Let's look at the best location for your proposal. 
On top of Carmel Bunkers

Tibidabo Ferris Wheel

Las Cruces, Park Güell

Parc del Laberint

In front of the Montjuic Fountain
Our ultimate favourite is Park Güell. Why? Because it's full of gardens and architectural wonders created by Antoni Gaudí. It is located on Carmel Hill. Before the proposal come, visit this place and take a stroll around the entire area. Until you find a spot that you find perfect. Although we need to tell you something. It might be difficult since there are too many beautiful spots there!